Our Mission
As a theatrical company, our organization's goals are to entertain and educate our audience on the importance of the civil rights movement and to remind us all, we are better as a people and as a nation, when we have equality, respect and love for one another.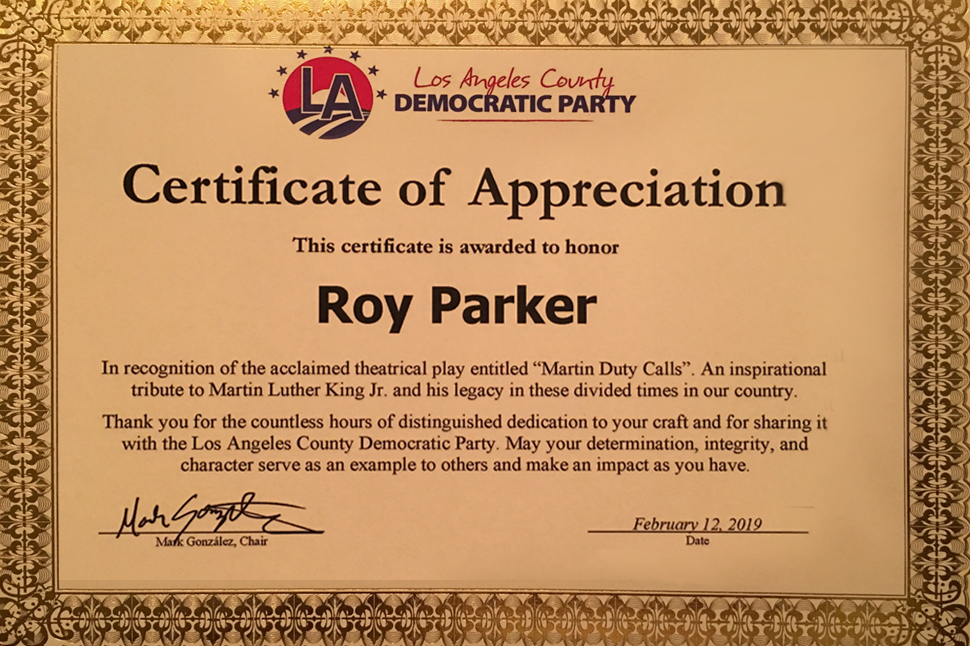 ---
About The Play
"Martin Duty Calls", is a stage play running One hour and 50 minutes (15 min. intermission). Written by Roy Parker. Directed by David Wendell Boykins and produced by Story Teller Productions and Davehouse Productions. "Martin Duty Calls", has been performed to Sold Out audiences throughout Los Angeles and Hollywood CA.

---
SYNOPSIS
This is the story of Dr. Martin Luther King Jr. & Coretta Scott King, from 1955 through 1968. The play opens with a defiant Rosa Parks refusal to give up her seat on the bus that defining long tiring day, in December 1955. That event began the rise of Dr King, his journey to fight racism and discrimination, while accusations of infidelity, the wear from constant death threats, strained and tested their marriage.
As President of the SCLC, Martin plans a successful march on Birmingham, which ultimately leads to his historic march on Washington DC. J Edgar Hoover, who believes Martin is a threat to National Security, is against Martin's march on Washington and vows to try and stop the march.

At the request of James Bevel, Director of the SCLC's office in Selma Alabama, and in spite of the venomous hatred by the local Ku Klux Klan, Martin fearlessly plans and attends a march for the voters rights in Selma, where he gives the "How long, Not long" speech; which helps lead to the 1965 Voter's Rights Act.
Despite the difficulties, Martin courageously stands tall and gives his "I have a dream" speech. After the speech, Martin has a confrontation at the SCLC office with Malcolm X, who believes the "I have a dream" speech was a "sell out" and Martin's nonviolent philosophy is doing more harm than good for the Negro.

In 1968, due to the many death threats, Coretta and best friend Ralph Abernathy, plead with Martin not to take part in a rally for the Sanitation Workers in Memphis, Tennessee. Despite the danger, Martin attends. At plays end, Martin gives his powerful "Mountain top" speech.
MARTIN DUTY CALLS was created to open the eyes of a new generation about what was done in Dr. King's time to achieve the gains we have today. We as a people have a great many achievements to be proud of. We've overcome on many fronts. But as long as the unemployment rate in the black community is twice that of the national average, as long as the Incarceration rate of black men and boys due to racial profiling and police brutality continue to rise, as long a Black neighborhoods are safe havens for black on black crime and drug abuse, as long as black women continue to be the group most susceptible to HIV and AIDS, as long as voter rights inequality still exist in this country, the struggle is not over. It's time to discuss what still is left to do.
---
GIVING FORWARD
Story Teller productions is a theatrical company, who's mission is to produce educational and entertaining, theatrical, projects. With your financial help, we can continue to take play's across the nation and to cities where social unrest is prevalent .The play, "Martin duty calls", is a reminder that we as a people are better as a society, when we love and respect one another. So please give generously. Thank you. StoryTeller Production Team.


---
The Struggle Continues
As we watch the headlines in Ferguson Mo., it is undeniable that the struggle continues for many Americans in this country. Has anything changed? Racial profiling and police brutality are at a new high. Today more than any other time since the civil rights movement of the 50's and 60's are the lessons of Dr. Martin Luther King Jr. relevant and needed.



The Martin: Duty Calls team realize it's time for an awakening; as we clearly see in Ferguson. We need to open a dialogue about how we can bring healing to the situation. MARTIN: DUTY CALLS was written to do just that. To open a dialogue and talk about the racial problems in our community. To discuss how we as a people and nation should handle these conflict. How we see ourselves in the world, greatly influences how we live our lives. It's time we remind the younger generation, the importance of respect, to stand tall and reach their full potential and purpose in life. LET'S TALK.











Talk Back
What can we as Americans do to better our social and economic situation in America? The Martin: Duty Calls team would like to team up with community leaders, to host a Talk-Back for the local community after a selected performance to discuss how we can better the relationships between the community and local law enforcement, jobs and race relations.





View the TALK BACK. Some of the participants were, the Mayor of Santa Clarita, the NAACP President of the San Fernando Valley Chapter, SCLC Western Regional President, the Writer, Director and Pastor of Valencia Christian Center.






Reviews
"Martin: Duty Calls" will recount challenges Martin Luther King Jr. and his wife, Coretta Scott King, endured during the mid-20th-century movement to gain civil rights for American blacks. "I heard the voice of the Lord tell me that I need to write this play," Parker said during an interview this week with The Signal. "I wanted people to be transformed back to that period. I wanted them to feel what those people felt at that time."

"Civil Rights Play Taking the Stage" - By Nancy Angel [ Read More ]

"Martin Duty Calls" Provides A Deeper Look Into The Life Of MLK Jr. [ Read More ]

"Martin Duty Calls Takes the Stage by Storm [ Read More ]

Review: "The Struggle Continues in the SCV" - By Kimberly Beers [ Read More ]